Hrithik Roshan Net Worth 2023: Biography, Income, Car, Salary, Assets ,New House
Bollywood superstar Hrithik Roshan is well known for portraying a variety of characters and his dancing skills. Often called as Greek God of Bollywood, he is one of the highest-paid actors in India, he has won many awards, including six Filmfare Awards, of which four were for Best Actor.
Even though the superstar made brief appearances as a child actor in several films in the 1980s, his first leading role was in Kaho Naa…Pyaar Hai in 2000. He then went on to act in several films like Fiza, Kabhi Khushi Kabhie Gham…, Koi… Mil Gaya, Dhoom 2, Jodhaa Akbar, Zindagi Na Milego Dobara and many more.
Being in the industry for nearly two decades, Hrithik Roshan has amassed huge wealth through brand endorsement and other investments. Reportedly, he charges Rs 65 crore for each film. As per reports floating around the internet, his net worth is valued at $370 Million ie Rs 2745 Crores approximately. Let's check out what contributes to his net worth.
The Vikram Vedha actor has a Santorini-themed sea-facing home in the Juhu area in Mumbai. His house is an architectural masterpiece as it boasts some of the most unique additions that one can only dream of. Apart from that, a chocolate vending machine and monkey bars can be found in his residence.
Hrithik Roshan is one of the few celebrities who owns two apartments on Mumbai's posh area Juhu-Versova link road. One of them is a penthouse, which is spread over 38,000 sqft, located on the 14th, 15th, and 16th floors of the building. The apartment offers a breathtaking view of the Arabian Sea. Not just that, it has a parking space for over 10 cars and an exclusive elevator for the actor. The property is valued at Rs 67.5 crore.
The Super30 actor also owns another apartment- a standalone apartment, which is reportedly priced at Rs 30 crore in addition to its stamp duty cost of Rs 2 crore. Both apartments are roughly valued at Rs 100 crore.
| | |
| --- | --- |
| Net Worth: | $370 Million |
| Name: | Hrithik Roshan |
| Net Worth In Indian Rupees: | 2745 Crore INR |
| Salary: | 260 Crore + |
| Monthly Income: | 20 Crore + |
| Age: | 48 Yrs |
| Date of Birth: | January 10, 1974 |
| Gender: | Male |
| Height: | 1.80 M (5′ 11") |
| Profession: | Indian Actor |
| Nationality: | Indian |
Hrithik Roshan Net Worth
Hrithik Roshan with a net worth of around $370 Million in 2022 (In Indian Currency approx. 2745 Crore INR) is not only a superstar but also a dance freak of the Indian film industry. When he starts dancing, it seems that the lyrics come to life! He is the most paid actor in the world in 2020. He is considered to be the Greek God of Bollywood, due to his good looks and perfect body.
| | |
| --- | --- |
| Name | Hrithik Roshan |
| Net Worth (2022) | $370 Million |
| Net Worth In Indian Rupees | 2745 Crore INR |
| Profession | Indian Actor |
| Monthly Income And Salary | 20 Crore + |
| Yearly Income | 260 Crore + |
| Last Updated | 2022 |
Hrithik Roshan Net Worth Growth
| | |
| --- | --- |
| Estimated Net Worth in 2022 | Rs. 2745 Crore |
| Estimated Net Worth in 2021 | Rs. 2410 Crore |
| Estimated Net Worth in 2020 | Rs. 2230 Crore |
| Estimated Net Worth in 2019 | Rs. 1980 Crore |
| Estimated Net Worth in 2018 | Rs. 1680 Crore |
A 7-acre farmhouse in Lonavala
Sprawled across 5-7 acres, Hrithik Roshan's Lonavala farmhouse is equipped with several amenities like a gym, a private swimming pool and a garden for organic farming reports Mumbai Mirror. Often the superstar throws parties for his family and friends in his Lonavala farmhouse.
Hrithik Roshan's car collection
The War actor has a unique taste in luxury cars. He has some of the most luxurious and expensive cars parked in his garage. Some of his most expensive coups are Rolls-Royce Ghost Series II, Mercedes-Maybach, Porsche Cayenne Turbo, Mercedes-Benz S Class, The Maserati Spyder, and 1966 Ford Mustang.
Hrithik Roshan Sources of Income:
Acting is his primary source of earning. He charges more than 22 crores for each film he signs.
He owns several restaurants (Fat Burger chain) in New Delhi.
Hrithik is the brand ambassador of top-selling perfume 'With love from Hrithik' which is taking over the market very rapidly.
He has also launched his clothing line.
Other endorsements are also there.
To top it all, his brand of Vodka 'Pure wonderoshan – India' is a market leader in top quality Vodka.
Hrithik Roshan Assets:
Hrithik alone accounts for Properties worth Rs. 1500 crores
Together with his parental properties, the valuation might go up to 5000 crores!
His family owns luxurious apartments and bungalows throughout the world.
He owns multiples house properties in posh localities of Delhi, Mumbai, Bangalore.
His home in Mumbai which has the market value of 84 Crores INR
Hrithik is crazy for cars and has a luxury car Porsche which has a price of Rs 1.22 crores.
He also owns other luxury cars of the Brands Ferrari, Volvo, Audi and Mercedes.
Hrithik Roshan Home
Let us have a look at his average earnings which will help us in calculating his net worth. Net worth is basically, the difference between assets and liabilities which an entity possesses. In Layman's language, it is how credible a person is! How much money he keeps can be estimated by the calculation of Net Worth. So, let us understand the basics of where his income comes from.
| | |
| --- | --- |
| Estimated Net Worth | Rs. 2745 Crore |
| Average Movie Remuneration | Rs. 45 Crore |
| Brand Endorsement Fee | Rs. 8 Crore |
| Personal Investments | Rs. 1250 Crore |
| Luxury Cars – 12 | Rs. 25 Crore |
Hritik Roshan Net Worth
Suppose we talk about his personal life he was born on January 10, 1974, in Mumbai to a Punjabi family of Hindi cinema personalities. His father, a well-known actor, producer and director of the Indian film industry, Mr Rakesh Roshan, is the son of music director Roshan. At the same time, Hrithik Roshan's mother, Pinky, is the daughter of producer and director J. Om Prakash.
| | |
| --- | --- |
| First Name | Hrithik |
| Last Name | Roshan |
| Profession | Actor |
| Age | 48 years old (2022) |
| Official Insta Handel | Instagram |
| Birth Date | 10 January 1974 |
| Height: | 1.8 m |
| Birth Place | Mumbai |
| Spouse: | Sussanne Khan (m. 2000–2014) |
| Country | India |
| Estimated Net Worth in 2022 | 2680 Crore INR |
He was educated in Scottish school in Mumbai and later completed his graduation in Commerce. Hrithik Roshan married Suzane Khan in 2000, and the couple has two kids with their marriage. They seemed to be the perfect couple at that time, but unfortunately, they split up and recently got divorced in November 2014.
To name a few movies in which Hrithik has given magical performances, we would mention about Jodha Akbar, Koi Mil Gaya, Aap Mujhe Ache Lagne Lage, Mujhse Dosti Karoge, Mohen Jo Daro, Dhoom 3, etc.
With his past performances and always getting better skills, we are very optimistic about his net worth that it will keep growing in the future. We wish him lots of success and happiness in the years to come.
Where Is Roshan's New House?
During the lockdown Hrithik Roshan has been pretty busy, he has been working on hits like Super 30, War and the fourth instalment of Krrish. But, aside from all of this, he has found his dream house right on Mumbai's Juhu-Versova Link Road.
The Juhu-Versova Link Road is considered a prime area in Mumbai as it has great connectivity to other localities in Mumbai, has plenty of shops, office spaces and malls nearby is very well maintained and best of all, has a view of the Arabian Ocean. The pin code of Hrithik Roshan's house on Mumbai's Juhu-Versova Link Road will be 400053.  
Pierce Brown once said, "Home isn't where you're from, it's where you find light when all grows dark." Perhaps Hrithik Roshan also believes in the same. At least that's what you would think when you see his home.
Fox Life is all set to launch a brand-new show on design called Design HQ. The show will decode the easy ways on how you can "achieve the interior design" the celebrity style.
Interior Designer Ashiesh Shah has decided to take the viewers on a journey, giving a sneak peek into some of the Bollywood celebrities' luxurious lifestyle. Starting today, every Thursday at 10pm, you can catch the show.
Roshan's approximately 3000 Sq ft house is in Juhu, Mumbai. The actor has broken down the original 4 BHK to create a den and 2 bedrooms.
Here are some of the pictures from Roshan's house.
Here are some of the pictures from Roshan's house.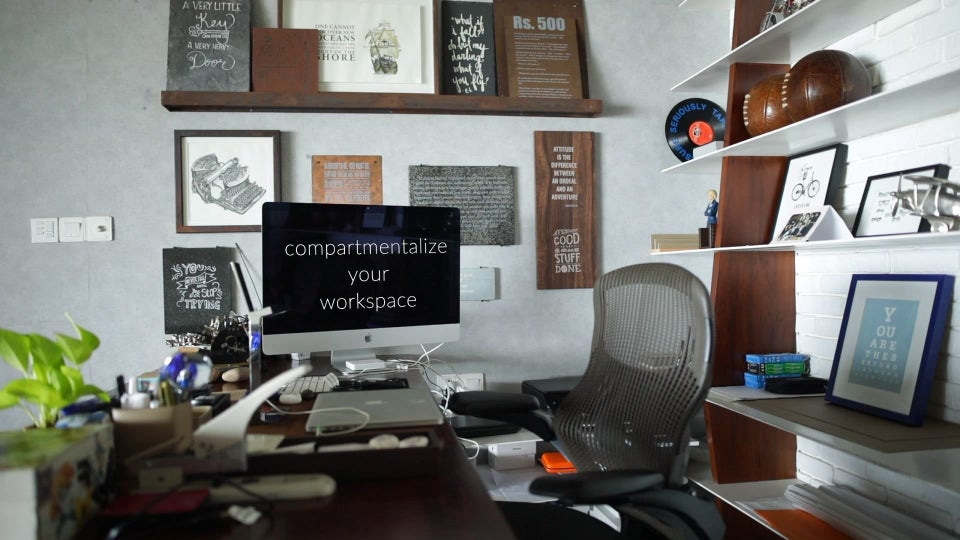 The personalized masks on piano: they are personalized because Hrithik & his sons made them on a holiday.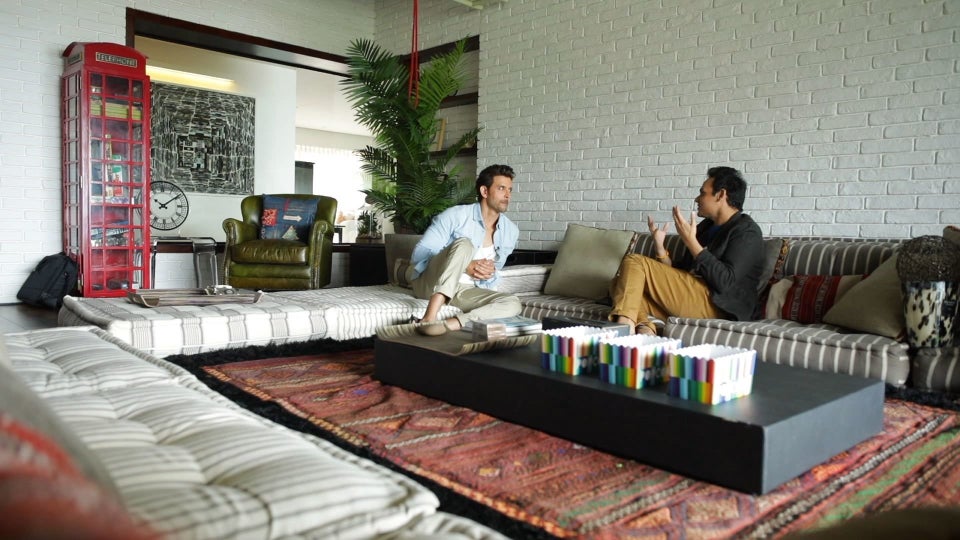 Green couch: a dedicated space for Hrithik to write.
Frequently Asked Questions
What is the net worth of Hrithik Roshan?
Hrithik Roshan's total net worth is around $370 million dollars (Rs. 2745 Crores)
What is the real age of Hrithik Roshan?
Currently Hrithik Roshan is 48 years old (10 January 1974).
What is the Salary of Hrithik Roshan?
Hrithik Roshan earns an estimated of Rs 260 Crore Per Year.
What is Hrithik Roshan Height?
The Height of Hrithik Roshan is 1.80 M (5′ 11").
What is the name of Hrithik Roshan Wife?
Hrithik Roshan Wife name is Sussanne Khan (m. 2000–2014)
Recommended Articles